chickens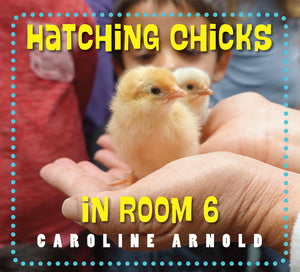 Launch Party for Hatching Chicks in Room 6: The Book has Hatched! 0
In May 2014, I was invited to do an author visit at Haynes Center for Enriched Studies elementary school in West Hills, California. After my presentation, Jennifer Best, a kindergarten teacher at Haynes, asked me if I had ever written a book about hatching chicks. Each spring, she told me, she brings eggs to her classroom and hatches chicks. But she said she couldn't find any books that were written at the right level for her kindergarten students. I hadn't written any books about chickens, although I had written a number of books about other kinds of birds and how they hatched their eggs. I liked the idea of a book about hatching chicks, and a year later I was in Mrs. Best's classroom learning about eggs and chicks along with the children and documenting the process with photos. My new book, Hatching Chicks in Room 6 is the result of that project.
On January 19, 2017, I visited Haynes CES to present Hatching Chicks in Room 6 to the school, and to celebrate its publication with Mrs. Best, her students who are in the book, and their families.
The party was after school, but earlier in the day I gave two assemblies in the auditorium to all grades, where I presented the book and talked about the process of writing it.
Even for students who didn't have Mrs. Best for kindergarten (she is one of three kindergarten teachers in the school), there was school-wide excitement about the book. During the incubation and hatching process many students in other classes drop by Room 6 to see the eggs and chicks and check their progress. During the assembly I gave a book to Mrs. Meade, the principal, and to the librarian for the school library.
The party was held in Mrs. Best's classroom and began with a presentation of an autographed book to each child. I also gave each child a postcard and a chick lollipop—they could choose a yellow, pink, or blue lollipop. To my surprise, the pink and blue chicks were just as popular as the yellow ones. (I ordered the lollipops online.)
After the presentation and photographs it was time to eat. I provided cupcakes decorated to look like chicks. (I bought the candy eyes and beaks at a local cake decorating shop.) We also had some healthier food—fruit, cheese, crackers and veggie sticks—and by the end of the party, all the food was completely gone. 
The children who are in the book are now in second grade. They were thrilled to get the books and so were their parents. Almost all the children who are in the book came to the party, even several who had moved to other schools. I want to thank Jennifer Best, her kindergarten students of 2014-15, their families, and everyone at Charlesbridge for helping to make this a great book!